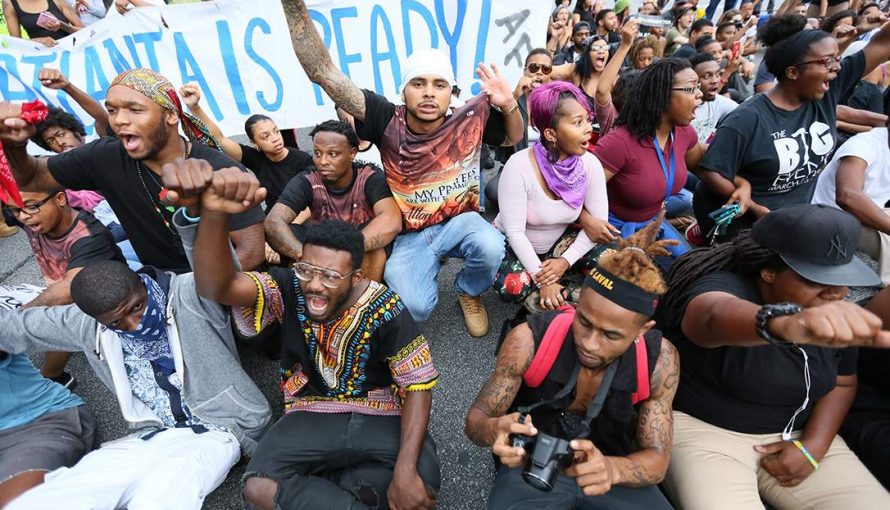 When police murdered George Floyd, protests exploded across the country. In Atlanta, authorities responded with a campaign to suppress protests for social justice. As a network of organizations working against the repression of protesters, we condemn this campaign. We stand in solidarity with all victims of repression and we pledge to defend them.
Today, policing of protests has become more aggressive than ever. Police routinely use tear gas to disperse gatherings, shoot tasers and rubber bullets at protesters, and make violent arrests for even the most minor charges. The FBI and APD have conducted home raids against activists and their families. Protesters are being incarcerated on trumped-up charges and denied bail. Some have spent the past six months in jail without being found guilty of any crime.
This repression has a chilling effect on anyone who might speak out about injustice. Black people, poor people, and other groups who routinely suffer the most from the criminal justice system are being terrorized into silence. Marginalized people who do take a stand are facing violence, arrest, and prolonged court battles.
Criminalizing protesters is a betrayal of the civil rights legacy of Atlanta. While social movements often involve disruption, this does not justify beating and jailing activists. Movements should be heard and engaged with, not silenced and intimidated. We recognize that police and prosecutors are targeting activists not because of their alleged crimes, but because of the movements they represent. By the same token, we stand in solidarity with all protesters facing arrest and prosecution, regardless of police accusations. As abolitionists we believe that nobody should be incarcerated, least of all those who are fighting for a better world.
We will not accept this campaign of repression. As organizations, we pledge to defend everyone targeted for their movement involvement.
We will do what it takes to get protesters out of jail, raising money for bail and tracking them through the jail system.
We will support any protesters held in custody long-term legally, politically and materially for as long as they're incarcerated.
We will provide legal counsel to vigorously defend protesters in court, and support them in seeking justice for baseless arrests.
We will tell the stories of protesters in the media, and counter political efforts to demonize them in the public eye.
We will educate vulnerable communities on dealing with intimidation from the police, and train people to protect each other and assert their rights.
We will continue to organize politically to demand that the charges for all 800+ protesters in the Atlanta metro area are dropped.
Political repression is intended to disempower, to tell people that when they speak up they are on their own. We are working to ensure that when activists are targeted, they have a strong community standing behind them.
Signed,
Atlanta Solidarity Fund
Atlanta Jail Support
Southern Center for Human Rights
Metro Atlanta National Lawyers Guild
Atlanta Anti-Repression Committee