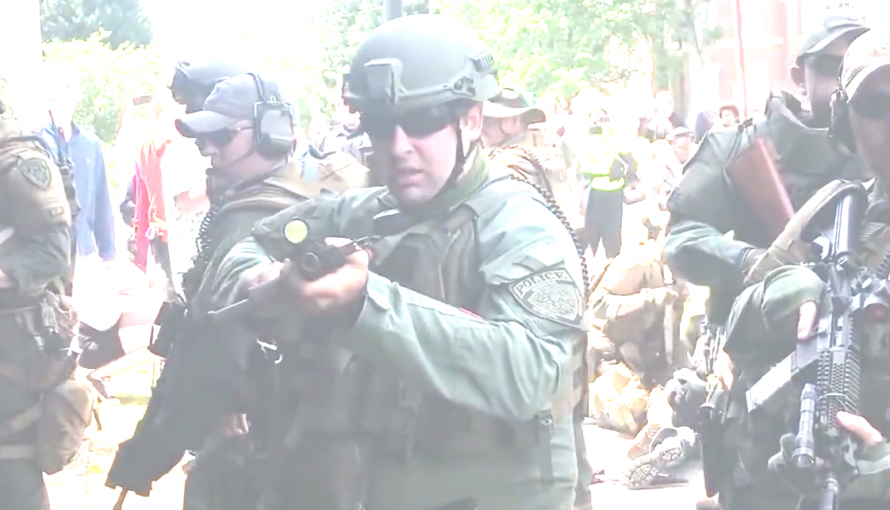 In April 2018 self-proclaimed Nazis rallied in Newnan, and anti-fascists organized to oppose them. Police sought to target and suppress the counter-demonstration, making ten arrests.
The Atlanta Solidarity Fund bailed out anti-fascist protesters, provided them with lawyers, sent supporters to court dates, and helped them with appeals and civil suits. In March 2021, we helped protester Daniel Hanley win a settlement of $35,000 for his wrongful arrest.
Now, we are proud to announce a new victory in court for another Newnan arrestee. An anti-fascist protester who has chosen to remain anonymous was tackled to the ground, punched in the face and charged with felony obstruction. Video evidence made it clear this individual did not commit any crimes. The charges were eventually dropped after almost two years. During that time he was burdened with a pending felony that destabilized his life, interfered with employment and took a heavy toll on his mental health. White supremacists found and published the arrestees' identities, targeting them for harassment. With support from the Atlanta Solidarity Fund he was able to sue, and has now won a $40,000 settlement.
Police often violate protesters' rights with impunity and have come to expect they will not face consequences. Lawsuits are one tool to hold them accountable. They partially compensate for the harm caused by the violation of rights, and also protect future protesters by establishing an expectation that people will fight back in court.
To support ongoing legal action against police departments responsible for violating protestors' rights, consider donating to the Atlanta Solidarity Fund.